Skip Navigation
Website Accessibility
Sneek Peeks

Welcome!
SNEEK PEEKS

for new block of the months and other clubs coming in 2022
New Twilling Block of the Month starting January 1st.
Falling Snowflakes!

No price yet, but I will let you know next week. It will be 12 months with 24 large snowflakes and 42 small snowflakes.
Display on a wall or shelf with 7x9 inch reclaimed wood clipboard OR 6 inch Organic hanger or simply lay upon a table. Well written pattern beginners love as it includes enlarged layout and stitch guide so you can see the hand embroidery close up, and hand stitch diagrams. I assume nothing and explain everything, making this perfect for any skill level. Each month you will be making the next month's project so it will be completed in time to display. So in January, you will get the kit to make February's hanging.
Made My Day Quilt

Featuring Made My Day by Anna Maria of Free Spirit fabrics

Quilt measures 84" square

Starting Feb. 1st
MOONLIGHT
Made with beautiful gray, black and cream batiks

By Wilmington Prints
95" square
8-month BOM
Beginning February or March
HOMEGROWN

Debbie Coddington will once again make her beautiful stitches to complete this one of a kind quilt




More details later







NEW CLUBS

Country Fair
by Kim Diehl


We are discontinuing Simple Whatnots, however, we chose a quilt from Kim's next offering and will meet once a month to work on it. The pattern is available in several different sizes AND only if you attend the club. AND, of course only Kim Diehl fabric will be used. You may bring your personal Kim Diehl scraps or purchase a kit. Kit prices will vary according to the size you decide to make. This Kim Diehl club will meet on the 2nd Thursday of each month at 1:30.
Cost - $5.00 per month
Buttermilk Basin's Ornament Extravaganza Club

(or Ornament Club)

Cost: FREE
This club will meet the 2nd Friday of each month at 1:30 beginning January 14th. You must purchase the book, Ornament Extravaganza II. Each month we will make an ornament from one of her sets in the book. The book is designed with sets of 3 ornaments that coordinate. You may purchase a wool kit to make one ornament out of the set for $8.95 or a kit that will make all 3 ornaments for $28.95. That way you don't have to decide which one is the cutest. You don't need to sign up to come, however, please let us know if you are interested so we will have adequate kits available. You many also bring your own wool and come and stitch with us.
Please bring your scissors, pencil, fusible product of your choice (of course we will have some available here purchase), an appliqué pressing sheet, needles, and your preference of thread to use (pearl cotton, embroidery floss, wool thread or whatever you enjoy using).
New He Leads Me fabric
Panel from Blank Quilting - 23" x 42"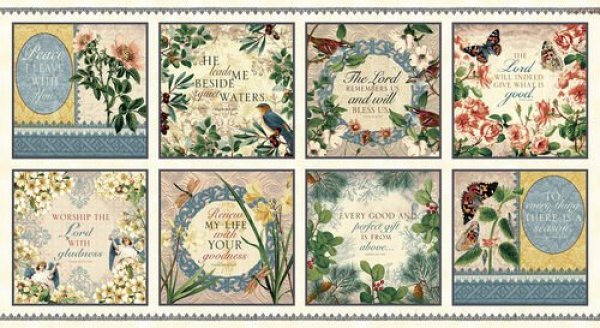 | | |
| --- | --- |
| | Stitchin Sisters is being discontinued. The new Ornament club is taking its place. We hope you have enjoyed it, but we wanted to try something new. We will also be adding more sew days that will fill the classroom and bring much joy. |
The Perfect Christmas Gift

May purchase over the phone


HOLIDAY HOURS

Dec. 24th, 10:00-1:00

Dec. 25th, Closed

Dec. 31st, 10:00 – 1:00
UPCOMING CLASSES
Sign Up by Clicking HERE
Vintage Sew Day - Friday, December 17th
Sew Day with Jeni - Saturday, December 18th